Europe For All Destination Finder
---
Skip links
---
Site Navigation
Top of page
---
The path to this page is: Home /
Welcome
Search here for accessible venues across
Europe using the Destination Finder!
Members
News and updates
Europe for All - Better information for discerning travellers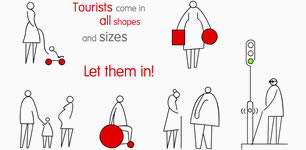 The rapidly growing numbers of middle-aged and older people in and outside Europe, as well as over 50 million Europeans with a disability want to travel. A lack of reliable information about destinations and services has been holding many of them back. Until now. We have designed Europe for All to give these customers the vital accessibility information they need, before they book their business or holiday trip.
Tourism Providers
Register your establishment with Europe for All using the Europe for All Self-assessment Form to make a simple, accurate and objective "accessibility survey" of your premises and services.
Press and Content Providers
Europeforall.com aims to be the Number 1 European portal for tourists who value accessibility as part of their holiday or business travel experience – and for those providers who seek to serve them.
Travellers
Europe for All will provide you with a new way to find and check the suitability of accommodation, tourist attractions and destinations in countries, regions and cities across Europe, based on your personal accessibility needs and service requirements.
---
EuropeforAll info
Top of page